Polylang is one of the most-used free multilingual plugins for WordPress. Complianz is developed to work seamlessly with Polylang and most other multilingual plugins for WordPress. Steps for alternative plugins will be very similar and most likely be supported as well.
Translate Complianz to supported languages
We strive to make Complianz available to a broad audience of users. Translating our Free and Premium plugins to a variety of languages has always been an important focus for us. If you are running a multilingual site with Polylang, chances are good that Complianz is already 100% translated to your language.
Currently supported languages
English
German (Formal and Informal)
French
Dutch (Formal and Informal)
Spanish
Portuguese
Italian
Greek
Danish
Finnish
Czech
Slovak
Serbian
Bosnian
Romanian
Polish
For other languages, join our translation team!
If your language is not mentioned in the list of the supported languages above, you can refer to this article to start translating your legal documents. While you're at it, please consider joining our translation team, or sharing your translations with us, so we can make other Complianz users from your country happy as well! Please contact support to get you started.
Guide for Polylang
Before starting to translate Complianz elements to your desired language, make sure that you have set the site languages via Languages -> Languages. If you are running Complianz Free, please force WordPress to download the correct language files if you have just made any changes to your Polylang supported languages. You can do this via the WordPress Dashboard -> Updates -> Update translations.
Generated legal documents
The following steps are relevant for the free version of Polylang.
Make sure that you have completed the Complianz Wizard and generated the legal documents you wish to translate.
Navigate to WordPress -> Pages and locate the legal document you wish to translate.
Click the '+' for the document and language you wish to translate (see screenshot below).
Please note: If you are a Polylang Pro user or using a plugin that enables you to duplicate pages, you can also duplicate the page and assign it as translated version of the original page as well. You can then skip the next steps.
Polylang will now add a new (empty) page, that will be linked to the legal document of your original language. In the free version of Polylang, we need to fill the content of this new page manually, which is easily done with Complianz. Start with adding your (translated) page title.
From now on, steps can be different for users that rely on the Gutenberg editor, the Classic editor, or a Pagebuilder like Elementor or Divi. Below we will provide steps for a few different options.
The Classic editor
After following the steps mentioned above, you can use Complianz shortcodes (a list of shortcodes can be found here) to add your legal document to the page. Shortcodes can be entered as text in the Classic editor. After publishing the page, you should see the translated legal document on the front-end of your site.
Pagebuilders (like Elementor)
Most pagebuilders will include a shortcode block, which can be used to enter the correct shortcode. You can find the legal document shortcodes in this article.
The Gutenberg editor
Add a new block and look for the Complianz legal document block (see screenshot below)

From the sidebar, select the correct legal document. Please note that the legal document is most likely displayed in the site language at this point. The document will automatically be translated after publishing the page.

Publish your page.
Please note: The UK and US legal documents are forced to English because this is the required legal language for these documents. Translated legal documents are particularly relevant for EU documents.
The cookie banner
Start with styling your cookie banner and review the texts on your cookie banner and buttons before you start translating (Complianz -> Cookie banner -> opt-in/opt-out). Because these texts are all customizable, Complianz can not translate these texts out-of-the-box. Therefore you need to manually translate them after you have reviewed the texts. You can translate the cookie banner texts by following these steps:
Navigate to Polylang -> Strings translations
Make sure you select the language you want to translate the cookie banner in, on the top of your screen.
Change 'view all groups' to 'complianz', to view all translatable complianz strings
Translate the strings to your language and click 'Save Changes' at the bottom of the screen.
If you are using a caching plugin, clear your site cache and test the translated cookie banner in a private or incognito window.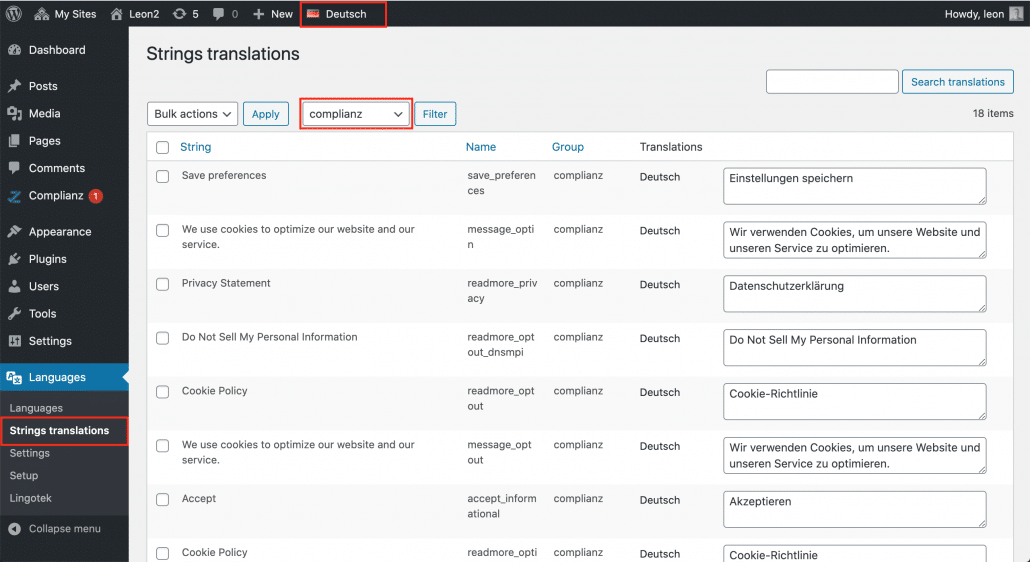 Complianz Dashboard, Wizard and menus
By default, the Complianz back-end menus will be displayed in your site language, or the language you have indicated as 'default' in Polylang. If you have administrator users with other language settings, the Complianz menus will adjust to this user setting as well (if the language is provided).
Common problems / FAQ
Legal documents are only partially translated
For US and UK legal documents, language is forced to English because this is the required legal language. Only user consent settings could be translated.
If only (some) cookie descriptions are not translated, please navigate to the Wizard -> Cookies -> Used cookies. Issue a re-sync to download all available translations. If your cookie descriptions are not available in the required language, you can manually translate the descriptions by navigating to the correct language (via 'Cookies in -language-') and manually edit the translations. This can also be done via Polylang -> Strings translations
For Complianz Free, force update language files via WordPress Dashboard -> Updates -> Update translations. Clear site cache before testing.
For Complianz Premium, please make sure to delete the Free plugin.
Can I change texts in the (translated) legal documents?
Yes, please refer to this article for more information.
My language is not (fully) supported
We are always looking for native speakers to help us with translating our plugin to other languages or to maintain existing languages. Please contact support.