TranslatePress is one of the most popular translation plugins available for WordPress. Complianz works hand in hand with TranslatePress, to ensure smooth translation to different languages, ensuring your policies are understandable for visitors from different countries.
Translate Complianz to supported languages
We strive to make Complianz available to a broad audience. As our users come from various countries, translating both the Free and the Premium versions of Complianz is of paramount importance to us. Complianz may already be fully translated to your language, take a look at the list below:
Currently supported languages
English
German (Formal and Informal)
French
Dutch (Formal and Informal)
Spanish
Portuguese
Italian
Greek
Danish
Finnish
Czech
Slovak
Serbian
Bosnian
Romanian
Polish
For other languages, join our translation team!
If for whatever reason, your language is not mentioned in the list above, you can always refer to this article to start translating your legal documents. If you're interested in translating Complianz into a language not previously mentioned, why not consider joining our translation team or share your translations. Please contact our support team to get started.
Guide for TranslatePress
Once TranslatePress is installed (you can download it for free here), in your WordPress admin bar, navigate to Settings > TranslatePress. In here; you'll need to add a language of your choosing to which you want to translate to (see screenshot below).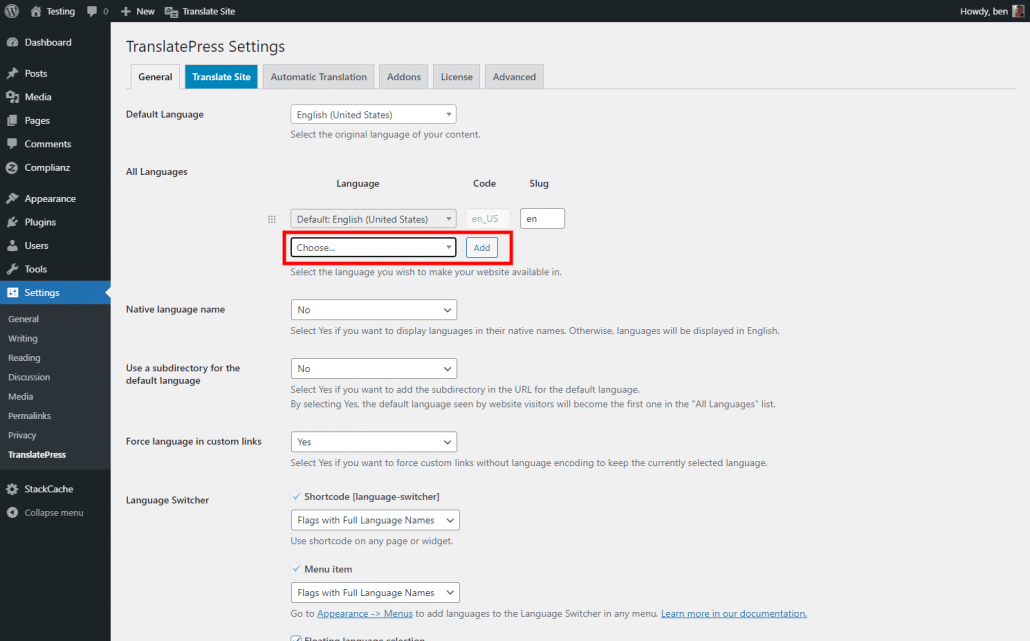 Generated legal documents
Ensure you have completed the Complianz Wizard and generated the legal documents for translation.
Navigate to the page you wish to translate, via WordPress -> Pages.
In the Page overview, click on View to load the page in your browser (see screenshot below).
Once the page has loaded, click on Translate Page (see screenshot below).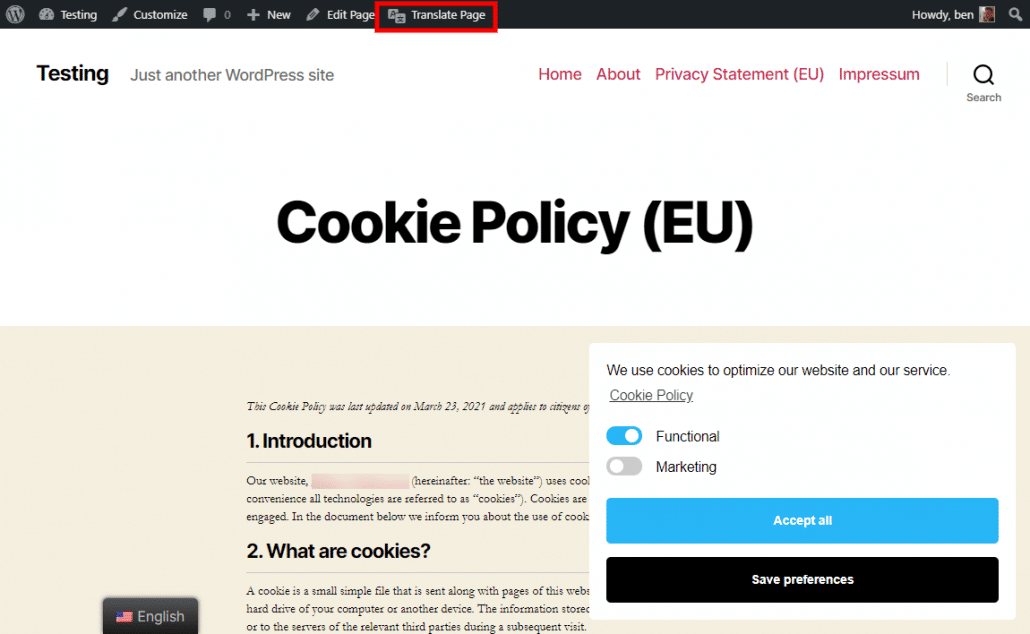 As TranslatePress works on the front-end of your website, you'll need to load the required page for translation. Once you've clicked on Translate Page, the translation editor will load. There are two ways to translate the text. One way is to hover your cursor over the text and click on the blue pencil icon. This will enable you to add your translation via an input box.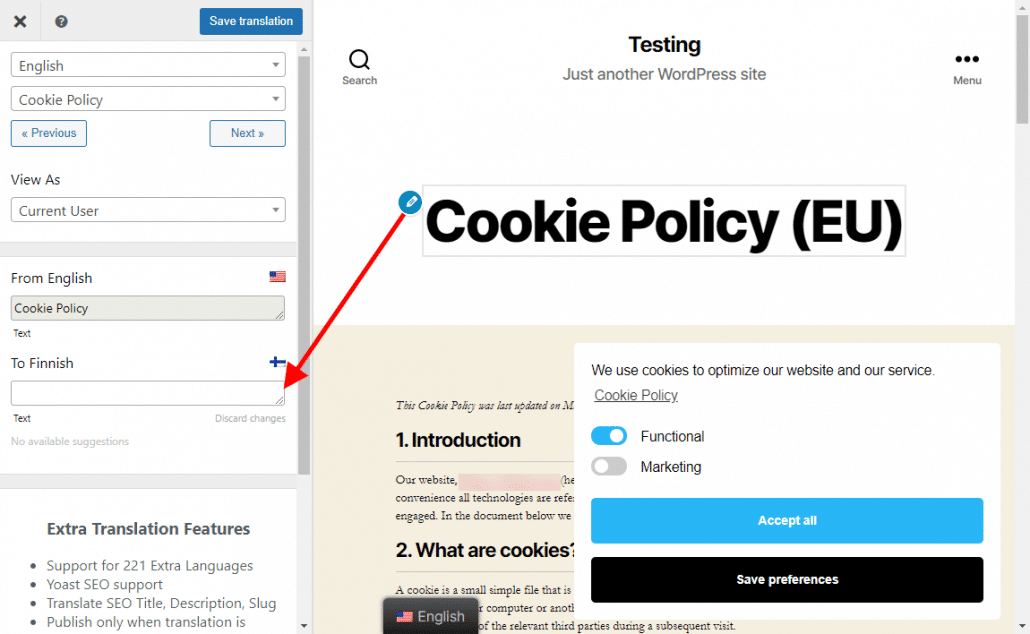 The other method is to choose from the string box; here, you can scroll through to the desired text for translation: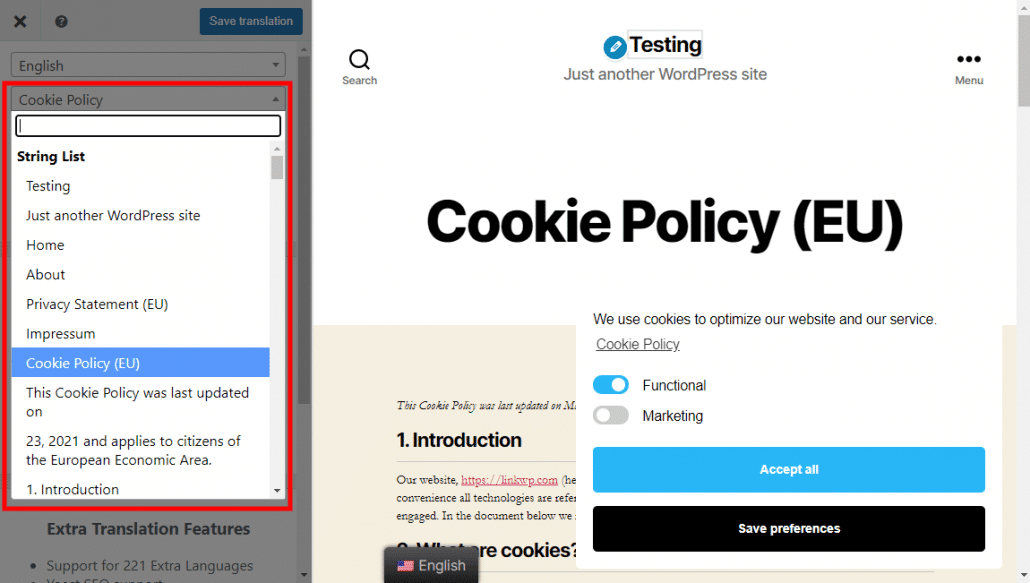 To save your translation at any point, either click on Save Translation or use CTRL(⌘) + S once you've made your changes.
The cookie banner
Once you've made the changes to your cookie banner, style and text, ensure you save them. As the TranslatePress editor works on your website's frontend, the text you enter in the settings here will show on the frontend for translation. To translate your cookie banner into another language, click on the text string and add your translation for the specific item as below: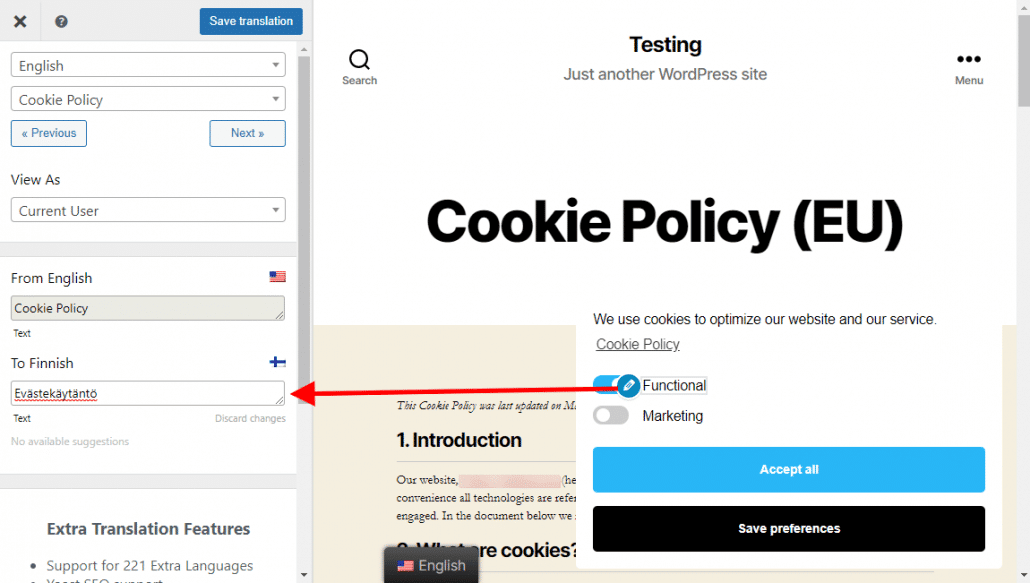 Once the translation is complete, click on Save Translation or use CTRL(⌘) + S.
Translating menu items
If you've decided to add your legal documents as menu items, whether in the main navigation or the footer, you can edit the menu text with TranslatePress.
Add the required policies as menu items in your WordPress admin as below: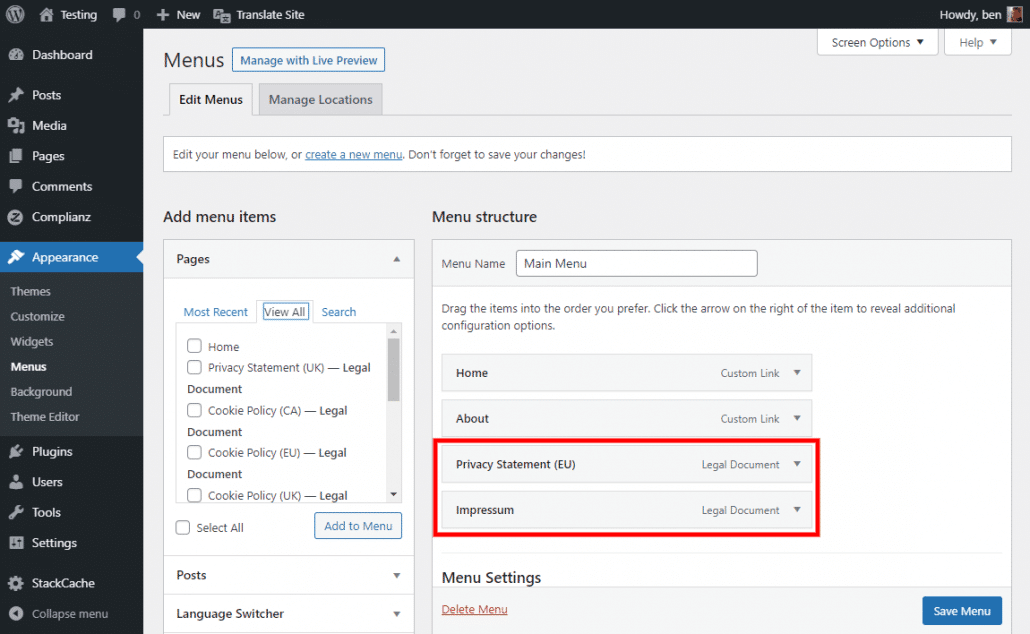 Depending on the WordPress theme you are using, you'll have different placement options for your navigation menus.
We've added two policy pages to our main menu, ready for translation. The text needs to be visible to TranslatePress in order to translate it, so if you're thinking of adding navigation for your legal documents, ensure it's on display on the frontend of your website. To translate menu text, click on the text and enter in your translation as shown below: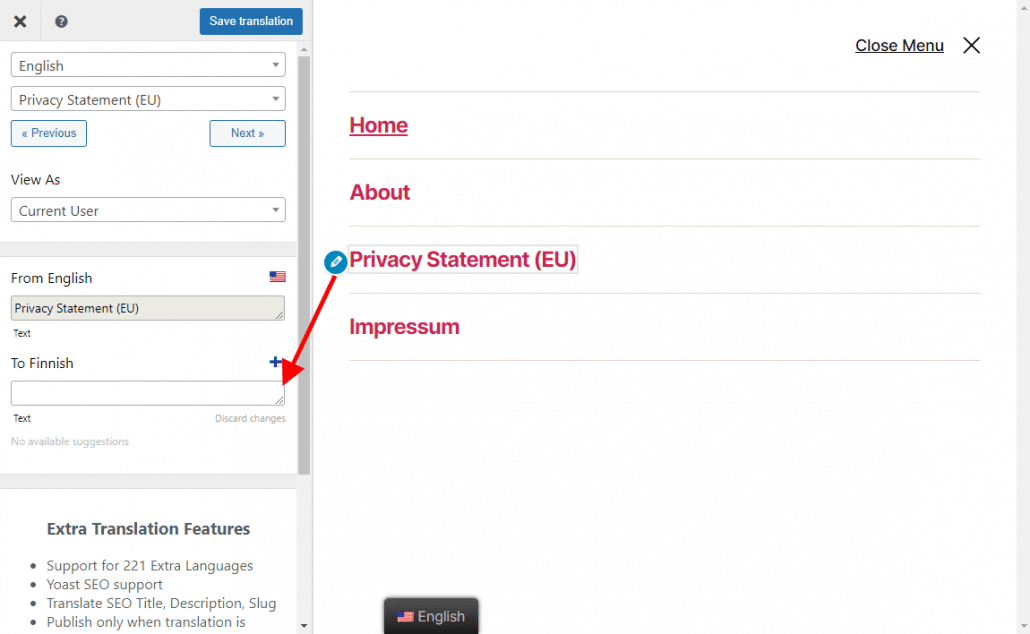 Viewing translations
If at any point you'd like to see how your translation is shaping up, switch to the language in the TranslatePress editor: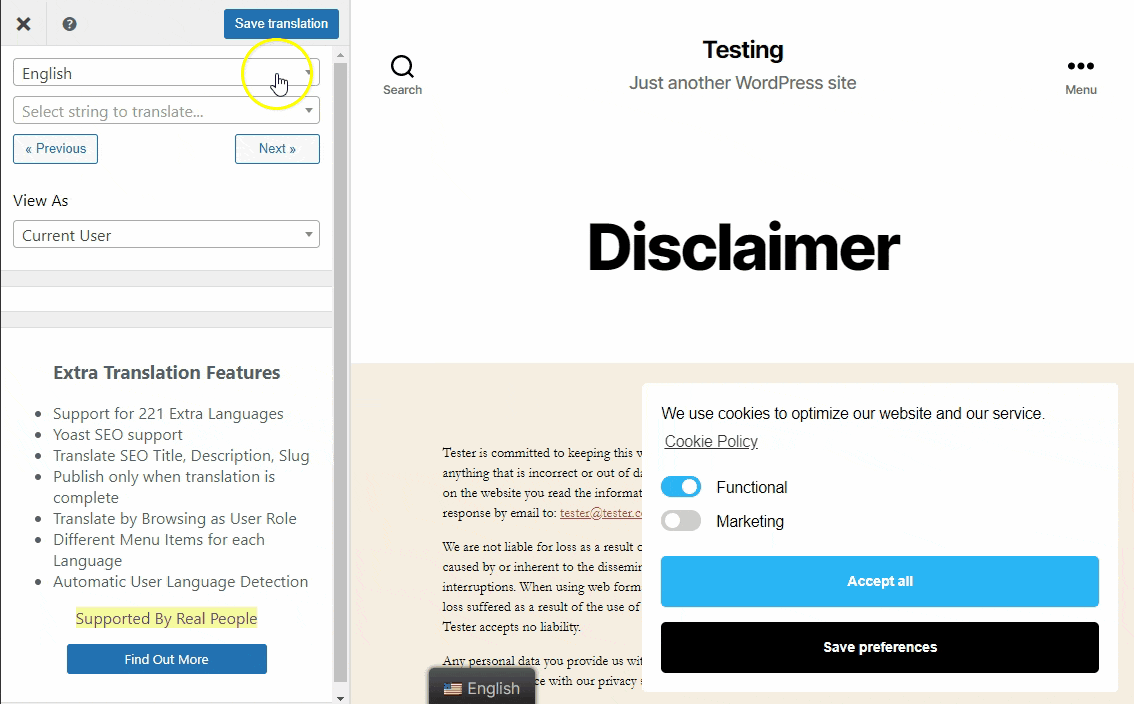 This is a helpful way to ensure you haven't missed any translations in the legal document or the cookie banner.
Complianz Dashboard, Wizard and menus
By default, the Complianz back-end menus will be displayed in your site language, or the language you have indicated as 'default' in General Settings, Site Language. If you have administrator users with other language settings, the Complianz menus will adjust to this user setting as well (if the language is provided).
Common issues / F.A.Q.
As TranslatePress is for the translation of text on the frontend of your website, it will not translate WordPress admin text or text for Complianz settings.
Can I change texts in the (translated) legal documents?
Yes, please refer to this article for more information.
My language is not (fully) supported
We are always looking for native speakers to help us with translating our plugin to other languages or to maintain existing languages. Please contact support.