If you are using Hubspot, you can use Complianz to manage consent for their Marketing en statistics cookies.
From 4.9,0 onwards you can integrate Complianz with the consent module of HubSpot. (If you followed the link from the wizard, you can use this integration)
If you don't want to use the consent module, or you want to integrate HubSpot with a prior release of Complianz, you can use our consent wrappers and script center.
We will explain both options below;
(Recommended) Integration between HubSpot and Complianz
In this description, we assume you're using the HubSpot WordPress plugin, although configuring the HubSpot consent module is done in your account. If you add HubSpot features with Google Tag Manager, please follow the same instructions.
How it works
Complianz will use the consent module of HubSpot to handle consent for the HubSpot feature, where it will be categorized as "Marketing" on your Complianz cookie banner. The features will still be activated before consent, but won't track any visitors. The HubSpot banner will be hidden for this purpose.

Configuring HubSpot
Go to your HubSpot account, and go to Settings. Here you will find Privacy & Consent in the left-hand menu and enable GDPR Privacy Settings.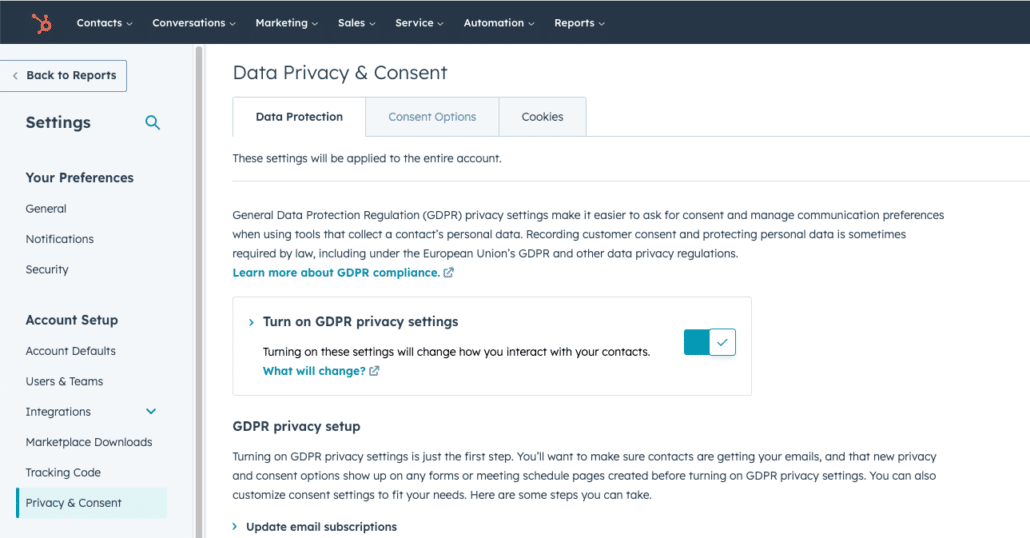 In the same menu, you will see a cookies tab, where you need to add a cookie banner to your domain. Please don't bother about the styling of this banner, as this in done via the Complianz interface.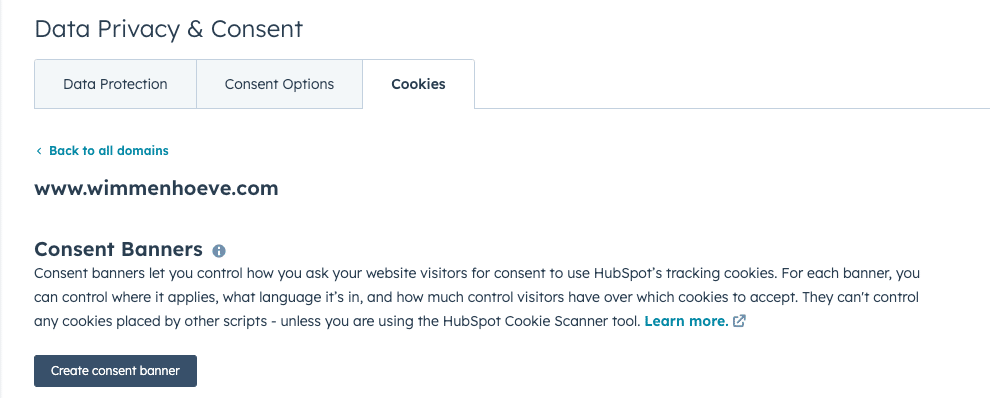 Configuring Complianz
Please make sure the HubSpot integration is enabled under Complianz -> Integrations. If you're still in the wizard during set-up, please enable HubSpot as a third-party service and answer Yes on the subsequent question; "Did you enable the consent module in your HubSpot account?".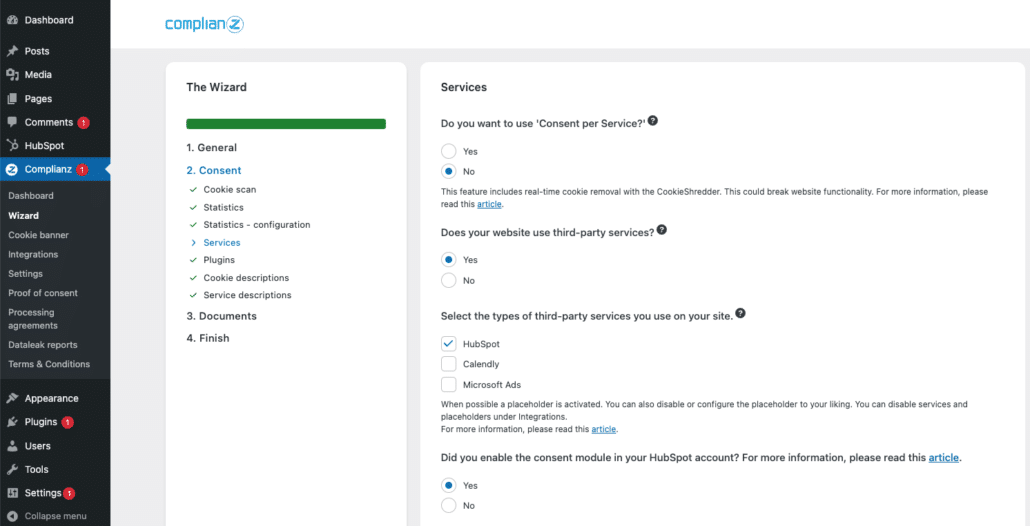 This should be it! The HubSpot module will manage HubSpot cookies if Complianz registers consent.
(Legacy Method) HubSpot in the Script Center
Prior to Complianz 4.9.0 and/or without the use of HubSpot's consent module, you can use the consent wrappers and script center to block HubSpot before consent. To disable HubSpot features before consent you can add the below script URL's to the script center under:
(part of) URL's or unique string from the inline scripts of third-party scripts & plugins that should be blocked before consent.
The URL's:

After you Brute Forced blocked all HubSpot scripts, your forms will not show up without consent. You can, therefore, choose to add a placeholder. You can use the consent shortcodes to wrap the form shortcode, as shown below. If you're using a slide-in, or pop-up form we suggest wrapping the trigger of this slide-in in the consent wrapper.

You can find an example here to style your placeholder: https://complianz.io/wrapping-content-in-consent-shortcodes/
This will do the trick. If you need any help during this process, please feel free to reach out and log a support ticket.