As of Complianz 6.1.6, Complianz has integrated with the WP Adverts (Maps and Locations) plugin/add-on. Complianz will detect the WP Adverts plugin when activated and automatically blocks the following Google Maps implementation(s) prior to consent:
Single Advert Map (Ad Details page)
Multiple Advert Map ([adverts_mal_map] shortcode)
Google Autocomplete (Adverts Add/Adverts List page)
Note: The Google Maps integration must also be activated under Complianz > Integrations > Services.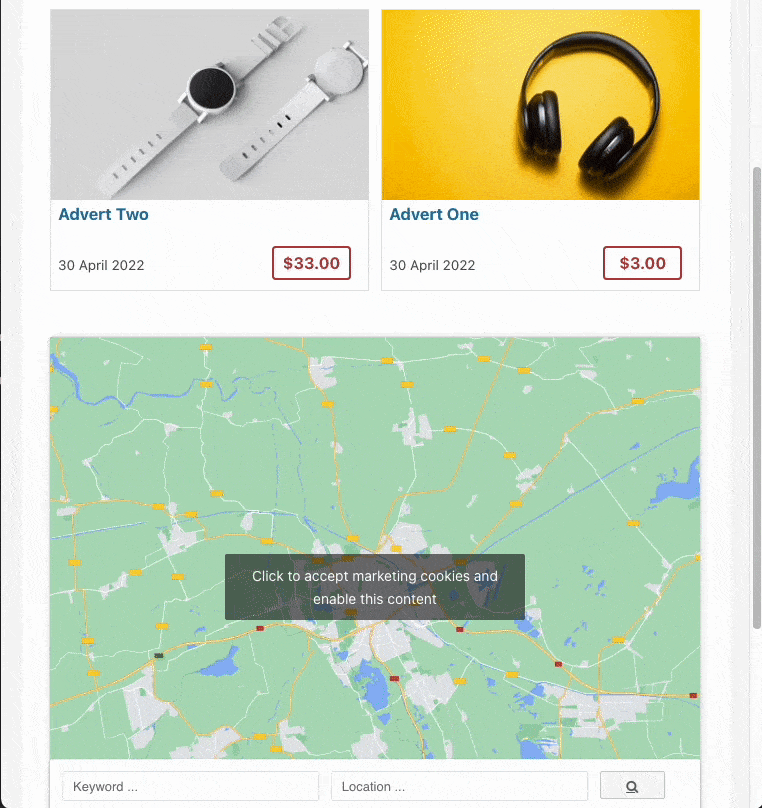 An example of the Multiple Advert (MAL) Map integration.
Configuration in WP Adverts
We recommend configuring the below settings in the WP Adverts (Maps and Locations) add-on for optimal results.
Google API
Ensure that your Google API Key has been entered under Classifieds > Options > Maps and Locations.
Ad Details Page
Configuring the settings as shown in the below screenshot displays a Google Map on "Ad Details (single advert)" pages. Complianz will block the Map prior to consent.

[adverts_add] and [adverts_list]
Note: when using "Use Google Autocomplete" for the Location field, consent has to be obtained before the field can be autocompleted with the Google API (as the Google Maps API is blocked prior to consent).