The script center is now embedded in "Integrations", an expansion of the functionalities and flexibility in integrating plugins, services and disabling/enabling specific content elements.
In this article we will explain the following:
1. Enabling and disabling Services
2. Integrated plugins
2.1 Adding plugins
2.2 Plugin developers
2.3 Requesting plugin integrations
3.0 Finding and adding Scripts, URL's and iFrames
1. Enabling and disabling Services
The current list are services that are integrated with Complianz and appear during the configuration in the wizard. Mostly for testing purposes, you can now disable/enable the blocking of these services by Complianz.
We have added placeholders for most services, e.g. and Instagram, which can be changed if needed. To know more, please read this article. If you want to add a service, please refer to 3.0 of this article.
Important if you're using the US region only, or in combination with other regions. Enabling services to be blocked will work on the opt-out principle, and will be forced when the user has revoked consent on the or DNSMPI page.

2. Integrated plugins
Complianz will scan your plugins to see if any match our integrated plugin list. These, like Monsterinsights for Google Analytics, are popular plugins that need a specific configuration to comply with privacy laws. Not all plugins need to be configured or integrated. If you're certain a plugin needs configuration or you want to request integrating this with Complianz, please keep reading!
2.1 Adding plugins
If you want to integrate a plugin, you can either request integration (scroll down to 2.3) or add the plugin's script to the script center. See 3.0 on how to add scripts.
2.2 Plugin developers
For plugin developers who would like to integrate their plugin with Complianz we wrote an article on how to use Complianz consent status and to integrate their plugin functionalities and comply with privacy laws. If help is needed from our end, please let us know!
2.3 Requesting plugin integrations
Requesting plugin integrations is simple, please log a support ticket with the subject: "Plugin Integrations" and complete the form. We will contact you if anything is unclear.
3.0 Finding and adding Scripts, URL's and iFrames
The script center can be used for:
Adding scripts from services you would like to use, but should be blocked before consent. For example Facebook pixels.
Adding an URL from a script which is already added by a plugin or 3rd party that should be blocked before consent.
Adding an iFrame that should be blocked before consent.
3.1. Adding a script
If you're using Google Tag Manager to add scripts and use Complianz to add Google Tag Manager, this section of the Script Center is not available as we expect users to use Tag Manager for Tag Management:)
If you're not using Tag Manager, please use the script center as followed:
In the first section with the description: "" you can add scripts like the Facebook pixel.

3.2.1 Finding the URL in your page source.
We will use Chrome in this example.
We have added the iFrame we mentioned before on a page, so we know which URL to look for, but how to find it in your page source?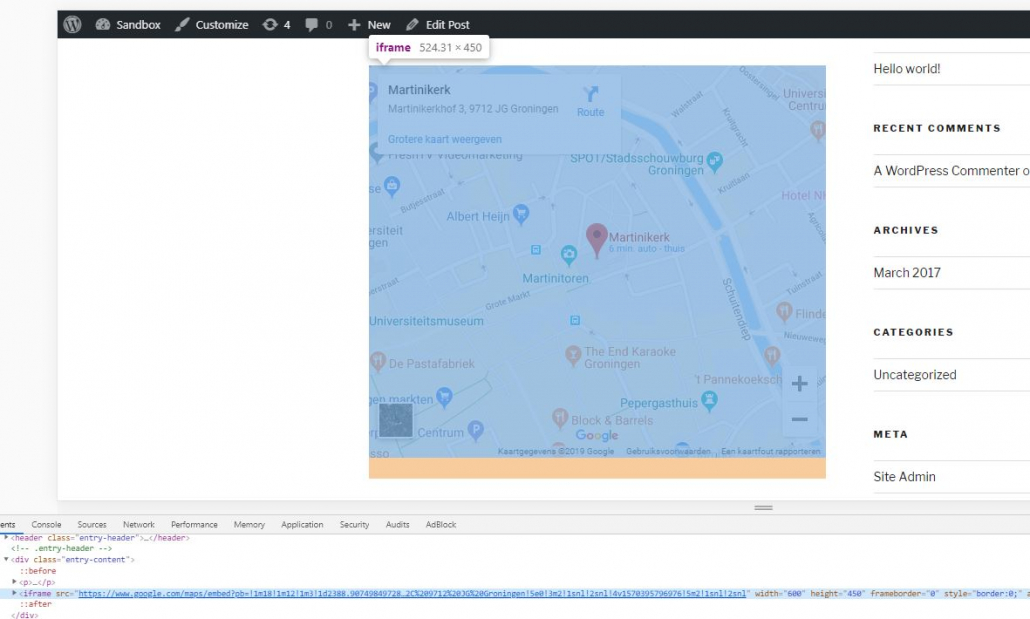 Right-click on the content element loaded by an iFrame. Choose "Inspect," and you will see the element highlighted. If not, try again. It should resemble something like the above picture.
A page is built in sections, header, footer, etcetera. The more complicated a webpage, more sections or divisions will be added. In those divisions or <div> we will find an element which embeds the <iframe src="URL"> tag.
This an example of the iFrame URL in the page source, surrounded by <div>isions.

3.2.2 Finding a URL of a plugin or 3rd Party source.
We will use the plugin PixelCaffeine and the Facebook Pixel, but now added by PixelCaffeine.
PixelCaffeine has added the Facebook Pixel. As a Facebook Pixel is not visible on the front-end, we need to find in the page source. To view the page source, you can right-click on your webpage and go to page source, or use a shortcut (Chrome) like CMD-U or Ctrl-U.
In the page source you will be looking for the Facebook pixel, so using "Facebook" as a search query is easiest with CMD-F or Ctrl-F. You will find the following script with the URL embedded.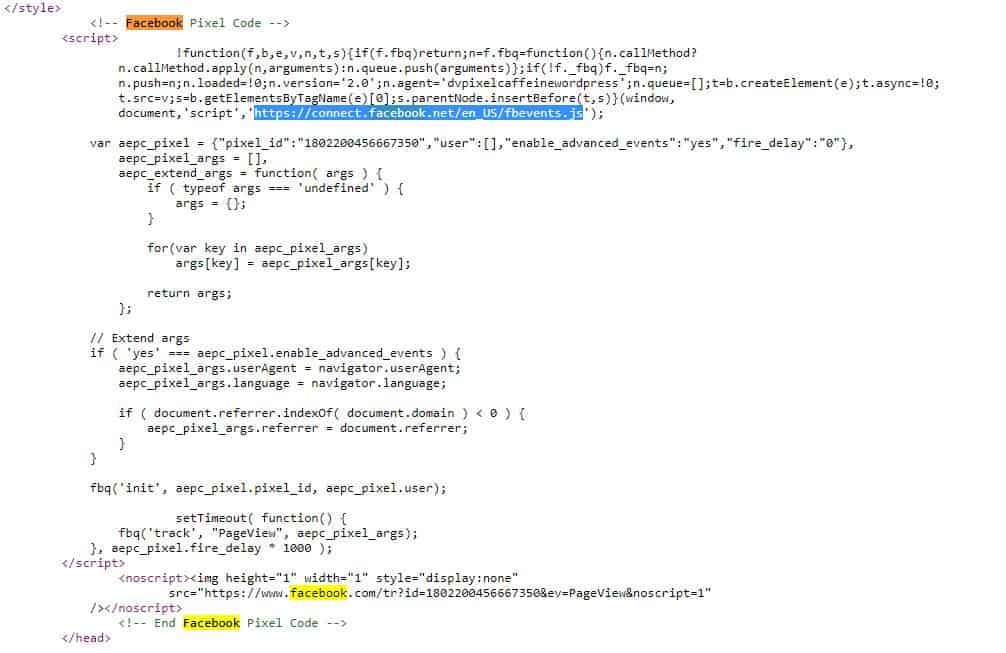 This script was added by PixelCaffeine. If you're using a plugin to add more than one pixel, or third-party scripts you might want to choose to block the entire plugin before consent. Here is how to find the URL from PixelCaffeine.
Use the inspect mode, like you would in finding the URL for an iFrame, as explained above. But now instead of using the tab "Elements", use the tab "sources" to see which services are loaded when you open a webpage.
To find a plugin go to: domain -> wp-content -> the specific plugin and open the map. It will show the javascript used to add the pixels. You can right-click copy the link address and paste it in the script center. For proper use; please remove the ?ver= behind .js files, for example
http://busy-fox.w5.wpsandbox.pro/wp-content/plugins/pixel-caffeine/build/frontend.js?ver=2.0.8 can be:
/pixel-caffeine/build/frontend.js (as seen below)
NB. This method works in most cases, sometimes a plugin will add more javascripts which depend on each other to work properly. Sometimes a caching plugin might cause the URL to be cached and not function properly. Please log a support ticket if you need any assistance when it doesn't work as expected.