The Transparency Consent Framework (TCF) is an initiative by IAB Europe and IAB Tech Lab to provide a platform for vendors, publishers, and consent management platforms (e.g., Complianz.io) that improves consensus and transparency between parties which offer solutions for digital advertising. Recently Google joined the IAB Europe's TCF Working Group and will integrate its advertising products with TCF from August 15, 2020, onward with a 90-day grace period to let all publishers switch to TCF 2.0.
Publishers on WordPress, or website owners who use any of Google's advertising products like Google Adsense, will be able to switch to TCF v2.0 as well to conform with Google's new guidelines.
Complianz' TCF Integration for WordPress
For all premium users, Complianz released a TCF module to complement our Privacy Suite for WordPress. This module is built-in the regular plugin and can be activated from 4.7.3 onward.
We are registered as a CMP by IAB Europe with ID: 332
How it works
Consent Management by Complianz is now complemented with consent management from TCF,  and they will work together to make sure your current situation is unchanged, only consent management for advertising is changed to conform to the guidelines of the TCF, by IAB Europe. You will see the following changes when enabling TCF by Complianz:
A new banner (see below for an example)
Customization on the banner is limited due to limitation by the guidelines
A new TCF tab under cookie banner settings
Changes in the legal documents to adhere to TCF/GDPR standards
A new section to configure to your liking.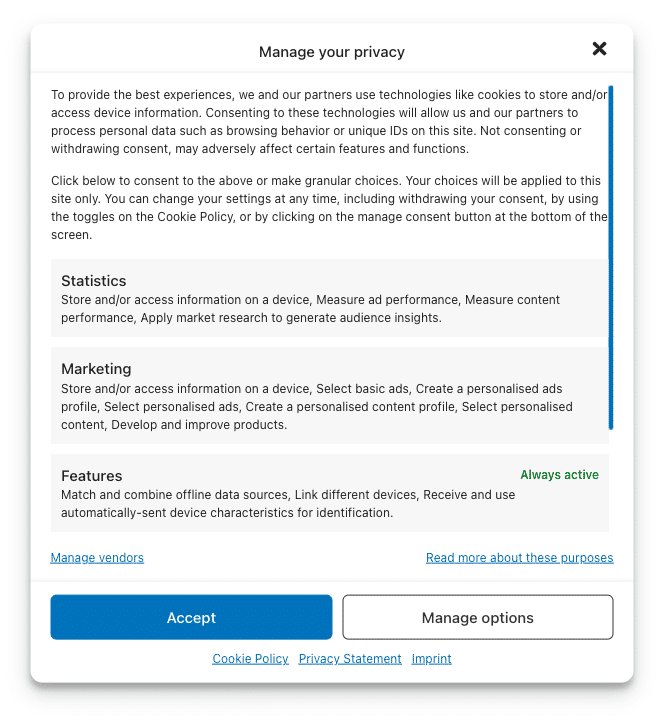 Integrating with other WordPress plugins
Complianz will handle consent for digital advertising, for example Adsense, but there are other plugins that integrate with Adsense and let you configure your website to shows ads. These plugin integrate both with Complianz and Google to make life easier for publishers. At this point you can configure Complianz with the following TCF enabled plugins:
Any questions? Shoot!
TCF integration might be a daunting task. As we have seen during the validation and subsequent building of our module, without any development background you might get stuck along the way.
Between the above mentioned plugins and Complianz, the switch to TCF v2.0 should be relatively easy. If you have any questions regarding configurations or consent. I'm sure we can help, as we are confident other plugin authors are ready to assist as well.