In this article, we will explain the many integrations available for your WooCommerce shop. We will look at specific questions in our wizard and configuring compatibility with plugins specifically aimed at WooCommerce.
Creating a compliant webshop depends on your privacy region. We will focus on GDPR and DSGVO in this article. If you're interested in your region, please know the integrations with Complianz will adjust accordingly, and most configurations will work straight away. Everything is available in the free plugin unless specified otherwise.
Questions in the Complianz Wizard
The below questions are from the premium plugin and are related to the privacy policy and Impressum. For free users, we suggest checking your current documents to see if this information is provided.
Do you make decisions based on automated processes, such as profiling, that could have significant consequences for users? 
Think of automated processes. For example, making predictions on payment behavior based on ZIP code, which influences available paying methods.
This is an open question with a suggestion. This also included behavior related to email marketing (explained below) and other automated processes.
Do you sell products or services through your website?
This answer will include a conditional question about dispute resolution. Make sure to read the help text for the specific context.
What is the name or title, and the address, of the person who is accountable for the organization's policies and practices and whom complaints or inquiries can be forwarded?
When you're sending or selling products in the EU, and your webshop is not located in the EU, please be aware that a data protection officer is highly recommended.
Indicate for what purpose personal data is processed via your website:
As a reference, most webshops will check all purposes, as legal obligations regarding VAT administration, account registration, and other purposes are 99% applicable to all webshops.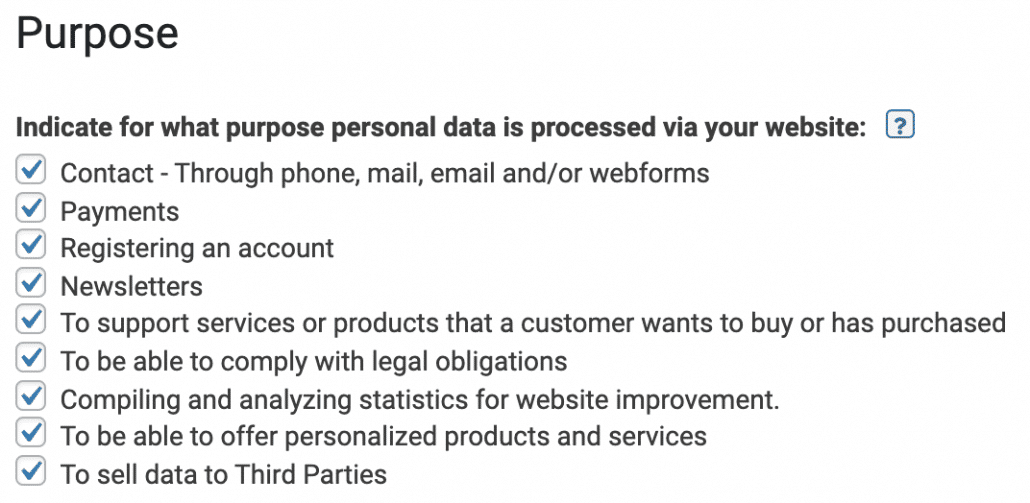 Does your website contain or process sensitive (personal) information? Sensitive personal information is considered to data that is very likely to have a greater impact on Privacy. For example medical, religious, or legal information.

WooCommerce Pixel Manager by SweetCode
This plugin tracks WooCommerce shop visitors and collects valuable data for conversion optimization, dynamic remarketing and reporting.
The integration is made by the author of SweetCode and is enabled automatically.

Terms and Conditions have been a much-requested feature for Complianz. As Complianz in essence is a Privacy plugin, and will not necessarily focus on all legal documents. We have decided to release a free Terms & Conditions plugin for our users, from the Complianz legal team.

The Terms & Conditions plugin will integrate with Complianz and WooCommerce, and will work as expected. ETA will be Q1 2021, and available in the WordPress repository or directly in Complianz.

WooCommerce Google Analytics Integration
Complianz will automatically detect if you have WooCommerce Google Analytics Integration installed. The integration can be disabled or enabled under Integrations. Your configuration of statistics in Complianz will adjust the consent of this integration.
By definition, this integration will not be available prior to consent as the features, like "Display Advertising" and Enhanced eCommerce, do not constitute anonymous statistics, although this is an option. It cannot be configured GDPR Friendly, and therefore has a minimum of statistics by default.

When Facebook is enabled under integrations, it will be blocked by default. This is for Facebook Messenger as well as a Facebook pixel. It will work with related plugins as well.

MonsterInsights eCommerce Add-on
This is a similar integration as with WooCommerce Google Analytics, whereby the added features cannot be configured for GDPR and consent will always be required.

Important. This will not work with plugins that combine javascript files on the front-end, as we can't differentiate between the different statistics scripts from MonsterInsights.

Ass this is a premium plugin, you can opt to use their own privacy module which is available for MonsterInsights Pro users.

Germanized for WooCommerce
Complianz and Germanized for WooCommerce can work simultaneously, please beware of the below suggestions:
The dispute resolution from Complianz can be found in your Impressum. This can be configured instead of the dispute resolution of Germanized for WooCommerce
Terms & Conditions. We recommend a more specific ToC for your webshop. We will release our plugin in Q1 2021.
You can set the Complianz privacy policy as standard, under Settings – Privacy, if you will be using it with the legal checkboxes of Germanized for WooCommerce. 

Mailchimp for WooCommerce
We recommend reading about the difference in consent registration and user registration and opt-ins here.
https://complianz.io/user-consent-registration/
. It will state where registration should take place. Some tips for user consent registration with Mailchimp and Mailchimp for WooCommerce:
The checkbox to subscribe to your newsletter should be visible and unchecked.
You should be more specific than "Subscribe to our newsletter". As the former constitutes an unclear agreement, the legal basis (the weakest) of consent is needed. Try formulating the agreement clear and precise, whereby you can use another legal basis. e.g, Processing is necessary for the performance of a contract to which the data subject is party or in order to take steps at the request of the data subject prior to entering into a contract.
Use the Double Opt-in feature of Mailchimp for the safest option.
Make sure you have selected "Newsletter" in the wizard, under General – Purpose.

Due to an unclear privacy policy of PayPal, we can block PayPal prior to consent if needed. Most cookies are identifiable for fraud protection and security, but some are not, and unexplained by PayPal themselves. 

Make sure you have selected PayPal as an Integration in the wizard, under Cookies – Integrations. This will make sure the cookies are collected. If the PayPal integration doesn't work with your payment gateway, please disable it under Complianz – Integrations – Services.