Just a few days ago, the California Attorney General approved some additional amendments to the CCPA. These amendments went into effect on March 15, 2021.
CCPA grants California consumers the right to know, the right to delete, and the right to opt-out of the sale of the personal information collected by businesses.
A business shall provide two or more designated methods for submitting requests to opt-out, including an interactive form accessible via a clear and conspicuous link titled "Do Not Sell My Personal Information" on its website or mobile application.
Already in 2018, Complianz implemented that specific obligation by creating the possibility for our users to show website visitors from California the DNSMPI link straight on the cookie banner, which will then take them to a cookie policy where they can opt-out for the use of non-functional cookies and can submit a request to opt-out from the sale of personal information.
Following the new amendments, the following opt-out icon may be used on your website in addition to posting the notice of right to opt-out, but not instead of any requirement to post the notice of right to opt-out or a "Do Not Sell My Personal Information" link: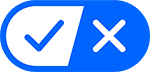 The newly-approved regulations ban so-called "dark patterns" that delay or obscure the process for opting out of personal information sale.
One of the new rules states the following:
999.315. h. (5) Upon clicking the "Do Not Sell My Personal Information" link, the business shall not require the consumer to search or scroll through the text of a privacy policy or similar document or webpage to locate the mechanism for submitting a request to opt-out.
To ensure that our users can comply with this new rule, we decided to immediately relocate the opt-out mechanism from the middle of the cookie policy to the beginning of that document.
How to add the DNSMPI icon if so preferred
Two things to consider: as explained earlier, this icon will not count as a replacement of current requirements, but an addition to the current state. When used: "The icon shall be approximately the same size as any other icons used by the business on its webpage." You can use the above icon for your own purpose and add a hyperlink to your Do Not Sell My Personal Information Page.