Both our Free and Premium Privacy Suite have a built-in Website scan to detect cookies and scripts used on WordPress websites. While developing and improving our product a recurring issue was improving our Cookiedatabase.
Our current Cookiedatabase
Today we have a Cookiedatabase with hundreds of the most popular cookies and scripts used by WordPress websites. Since a couple of months we have added a feature for users of our plugin to report missing information in our database. We will add the following information manually when information is missing:
The name of the organisation which uses the cookie's purpose e.g. "Complianz".
The purpose of a single or multiple cookies
Retention Period. How long the cookie is stored
A clear description of what the cookie does
The exact names of the cookies e.g. "complianz_config"
The Privacy Statement connected to the data collected.
This information is manually added and checked by us, before being released in our next update of the Complianz Plugin. And this is what it might look like: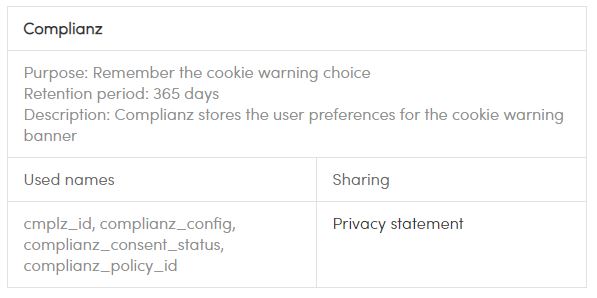 A new initiative: Cookiedatabase.org is coming soon.

Image: Reporting unknown cookies in the Complianz Wizard
After adding the feature of reporting unknown cookies we quickly realized the amount of cookies is almost endless. Besides a growing Cookiedatabase, we think the current legal obligatory descriptions and information won't make sense to most website visitors. There's a big gap between the GDPR and upcoming ePrivacy for website developers/marketing and website users, regarding knowledge about Digital Privacy. We want to fill the gap with the following improvements on our Cookiedatabase:
Open-source database on cookiedatabase.org. Available for all!
Descriptions are for non-technical users and feature examples of usage
Combinations of cookies lead to a personal profile for each user.
Logged-in users can add, translate and suggest improvements.
Non-Wordpress website can use our API for an up-to-date Cookiedatabase for better communication
You can search for usage, cookie name, organisation, websites etc.
But foremost it should be a community effort to inform our website users of Digital Privacy.
Partnering with SIDN Fund.
We are proud to announce the partnership with  the SIDN Fund to make way for a Open-Source system to make Digital Privacy a clear and informed subject for all. SIDN Fund is an independent foundation established by SIDN, the foundation for internet domain registration in the Netherlands. Sharing expertise in Digital Privacy is a purpose of both SIDN and Complianz and we are working hard to support and inform anyone on this matter together from this moment forward.
A Brief Statement
For the last few months, we have been working on cookiedatabase.org. An open-source database for anyone to use, edit or contribute while being moderated by privacy specialists.
This database is connected to our Complianz Wizard and will automatically sync unknown cookies to our database for further investigation. Known cookies, recently scanned cookies are synched with the database weekly to make sure you have the latest moderated information on your policy.
The synchronization and editing of your cookie policy have been improved as well. You can now desync your policy and edit your cookie policy or you can keep your cookie policy automated to reflect the latest changes.
Important!
We have stress-tested our database on multiple occasions to make sure it will handle all requests smoothly during this update. If your synchronization takes a while. Please try again in a minute or so.
How it works
Cookiedatabase.org is a collection of moderated cookies descriptions and services as an open-source project, very much like WordPress is open-source. Dedicated volunteers working hard on the back-end to create a better user experience.
The Cookiedatabase will work in two ways:
1. Collected cookies from your website will be synched with the Cookiedatabase, to:
1.1. add new cookie information for your cookie policy in the available languages.
1.2 sync your cookies with the database if unknown cookies are detected.
1.3 check new cookies to sync newly available information on a weekly basis.
2. The database on Cookiedatabase.org will:
2.1 Edit and moderate unknown cookies to push new information back to our users
2.2 Will verify cookie information by the service responsible for setting the cookie
2.3 Build a better, more transparent and clear description how cookies and tracking works.
As a user of Complianz you can sync your cookies with Cookiedatabase.org from the wizard and keep your cookie policy automatically updated with the latest information. You can also desync your cookie policy so you can edit the policy to your wishes.
If you have any questions regarding the latest release. Please contact us through our support form or visit cookiedatabase.org
Full Changelog since 3.0
== Change log ==
= 4.0.0 =
* Improvement: separate consenttype for UK
* Improvement: cookie information retrieved from cookiedatabase.org

= 3.2.4 =
* Tweak: Matomo stats script updates
* Improved javascript array merging method

= 3.2.3 =
* Fix: missing retain data statement in privacy policy
* Fix: missing translation strings
* Fix: not registering strings from cookie translation for multilanguage environments

* Fix: changed placeholder.html in blocked iframe source to "about:blank"

= 3.2.2 =
* Improvement: added option to unlink and customize the legal documents
* Improvement: structure improvements to integrations code
* Fix: UK Cookie Policy URL not added to cookie notice
* Fix: Some questions not showing in wizard for UK region
* Improvement: added integration for GEO My WP members list
* Improvement: added Forminator integration
* Improvement: added Beehive integration

= 3.1.2 =
* Fix: incorrectly forcing en_US language

= 3.2.0 =
* Improvement: added shortcodes to document list on dashboard page
* Improvement: do not activate cookie banner before wizard has completed
* Improvement: added banner loaded jquery hook
* Improvement: The United Kingdom is now a separate region with specific cookie consent management
* Improvement: Script center is now embedded under 'Integrations'. A more flexible approach to blocking and enabling scripts, plugins and services
* Tweak: Tag Manager does not require a categorical approach of cookies
* Tweak: Feedback in dashboard has been improved when changing regions
* Tweak: Stylesheet updates

= 3.1.1 =
* Fix: document wrapped in double div
* Fix: PHP warning caused by empty list of proof of consent documents
* Fix: if upload directory does not have writing permissions, generating the PDF files could cause an error

= 3.1.0 =
* Improvement: proof of consent page, which works as consent registration on settings change
* Improvement: added script dependency array, to enable scripts to fire in a certain order
* Improvement: extended placeholder support for non-iframes
* Improvement: added soft Cookie Wall

= 3.0.11 =
* Improvement: pixel caffeine support
* Fix: version stripping second digit for upgrade check

= 3.0.10 =
* Fix: on saving of settings, when Contact Form 7 is integrated using consent box, mail settings are reset
* Fix: Avia front end pagebuilder getting blocked by cookie blocker
* Fix: Lawfull => lawful
* Improvement: added custom jquery event to hook into cookie consent events
* Fix: set Google Analytics as not functional
* Fix: duplicate advertising cookies settings in US cookie policy
* Improvement: added PayPal cookies
* Improvement: added cc-revoke example
* Improvement: added helptext to explain email addresses are ofuscated
* Improvement: sanitizing of hex color in custom css
* Improvement: WP Google Maps integration
* Improvement: moved do not track me integration to filterable array
* Improvement: comma separated ip's supported in GEO ip
* Improvement: prevent policies from being generated when not activated in settings
* Improvement: pixelyoursite plugin support
* Improvement: notifications when cookie blocker is enabled, to make sure users understand the implications
* Improvement: dropped youronlinechoices as suggested service

= 3.0.9 =
* Improvement: change revoke button in cookie policy to button element
* Improvement: for Tag Manager, a suggestion to set up personalized ads

= 3.0.8 =
* Improvement: add option to configure your own cookie policy URL
* Fix: creating legal document page when none is available after region switch
* Improvement: W3C validator compatibility for documents
* Fix: javascript pattern not matching correctly, causing both text/plain and text/javascript scripts.
* Improvement: recommended action on Google Fonts
* Fix: Pass font color to cc-category class
* Fix: allow for content in iframes tags in regex pattern
* Fix: A/B tracking still in progress notice when only one banner left
* Fix: hide comment checkbox when WP personal data storage for comments is disabled
* Fix: hide security measures question when privacy policy not selected
* Improvement: more info on personalized ads configuration with Tag Manager

= 3.0.7 =
* Tweak: remove blocking of custom Google implementations, as it is not yet possible to reactivate them

= 3.0.6 =
* Fix: new regex did not exclude cmplz-native scripts from cookie blocker

= 3.0.5 =
* Fix: saving when saved data is not an array
* Fix: prevent force category for Tag Manager after switching back to GA
* Improvement: allow for Youtube video series URL
* Fix: several improvements for US documents
* Fix: table remove on plugin deletion
* Improvement: when marketing level category is selected, statistics category should not get consent
* Improvement: not scrolling to top when accepting

= 3.0.4 =
* Fix: expiry days not passed to cookie banner

= 3.0.3 =
* Fix: add href to accept button on cookie banner
* Improvement: 
shortcode * Fix: Cookie policy advertising and analytical cookies settings fix * Fix: Not saving unchecked checkbox custom document css * Improvement: Hide filter selects when a/b testing not enabled * Fix: Privacy statement for eu notice when using US only * Fix: If page is deleted, stored cookiepage url could be empty * Fix: When switching settings for advertising cookies, output might show both advertising and non-advertising paragraph * Fix: No cookie banner mention in cookie policy when no banner is needed * Fix: Cookie blocker was not activated when only statistics required a cookie warning * Fix: selecting no thirdparty services or cookies could lead to double activation of statistics * Fix: Selecting US as target region in some cases did not fire the default consent which is allowed for US privacy regulations = 3.0.2 = * Fix: Gravity forms checkbox not generated correctly * Fix: Brand color not updating in cookiebanner * Fix: US Cookie policy not showing correct purposes * Fix: Incomplete cookie causing not reaching 100% without notice * Fix: Enabling TM categories * Fix: Elementor forcing lineheight of 0 in embeds = 3.0.1 = * Fix: hook for DB upgrade moved to an earlier one. = 3.0.0 = * Fix: removed google plus integration, as it's discontinued * Fix: prevent saving from document URL's on autosave and revisions * Fix: moved linkedin from script blocked list to async loaded list * Fix: default region is now one of the selected regions in the wizard. * Fix: when localstorage is empty, empty array could cause PHP error during cookie scan * Fix: excluded elementor_font post_type from scan * Fix: As elementor uses the classic shortcodes in Gutenberg, an exception should be made for Elementor when inserting default pages * Improvement: completely rewritten video blocking and placeholder code, which should reduce possible issues * Improvement: added HappyForms integration to enable recaptcha initialization. * Improvement: hide nag notices from other plugins on Complianz pages. * Improvement: dropped hook on save_post and insert_post which triggered new scan. * Improvement: added option to stop scanning every week with define('CMPLZ_DO_NOT_SCAN'); * Improvement: added warning when a cookie is not completely filled out * Improvement: extended support for different types of IP detection on servers * Improvement: moved string translation support for polylang and WPML to core * Improvement: Added option to disable adding placeholder HTML to video's * Improvement: Added plural for Social Media statement in Cookie Policy * Improvement: Added exception for Non Personalized Ads in advertisement section in Wizard and in Cookie Policy * Improvement: Added escaping to outputted javascript, all scripts moved to templates * Improvement: Moved cookie banner settings to separate table and object * Improvement: limit ajax requests to a/b testing and multiple regions