We have released Complianz Privacy Suite, both Free and Premium! Besides a full maintenance round-up we have added new, automatic cookie descriptions from Cookiedatabase.org.
If you just installed 4.0.* please read below F.A.Q. to make sure your all up-to-date. For more information, please keep reading!
F.A.Q.
1. Consent for the API
We ask your consent to use the API from Cookiedatabase.org. Cookiedatabase.org is founded and supported by Complianz.io and the SIDN Fund. We send information about the found cookies, plugins and domain to check, moderate and complete the description of that cookies and services. This data will be stored and processed temporarily until the cookie descriptions are completed and given back to you through the API.
2. Connecting with Cookiedatabase.org
To be able to connect and synchronize with the API you will need to give consent to the API, this can be done in the wizard, under cookies > integrations. The consent is of course optional. Without consent your cookies will be scanned and you will be able to describe the cookies yourself.
3. Synchronizing takes a long time
It could be your synchronization will be queued. You can wait for the sync to complete, or come back a bit later. When this is the case, it will most likely after an update.
4. Cookies are not synchronized
In some configurations you will need to re-sync when you arrive at 'Used Cookies' in the wizard for the first time. Please do a re-sync!
5. Weekly scans – Synchronization is not available
After a complete scan and synchronization the synchronization will be locked for one week, or until new cookies are found. The synchronization after new cookies, or after 1 week must be done manually. Premium users have an automatic synchronization when new cookies are found and weekly.
6. A lot of similar cookies, all very long containing numbers and letters.
Some services set vast amount of cookies. For example cookiename_ID_1892647327_AdViewed and these appear multiplied with different hash codes:
cookiename_ID_18343434447327_AdViewed
cookiename_ID_13464732333437_AdViewed
cookiename_ID_18456733232227_AdViewed
cookiename_ID_1844654647327_AdViewed
cookiename_ID_3434327_AdViewed
etcetera.
These cookies will be synched to cookiedatabase.org. The moderators will change these cookies to cookiename_ID_*_AdViewed so it will look better on your cookie policy. Please log a support ticket if you found one!
Both our Free and Premium Privacy Suite have a built-in Website scan to detect cookies and scripts used on WordPress websites. While developing and improving our product a recurring issue was improving our Cookiedatabase.
Our Cookiedatabase untill version 4.0
Untill version 4 we used a Cookiedatabase with hundreds of the most popular cookies and scripts used by WordPress websites. Since a couple of months we have added a feature for users of our plugin to report missing information in that database. We added the following information manually when information is missing:
The name of the organisation which uses the cookie's purpose e.g. "Complianz".
The purpose of a single or multiple cookies
Retention Period. How long the cookie is stored
A clear description of what the cookie does
The exact names of the cookies e.g. "complianz_config"
The Privacy Statement connected to the data collected.
This information is manually added and checked by us, before being released in our next update of the Complianz Plugin. And this is what it might look like: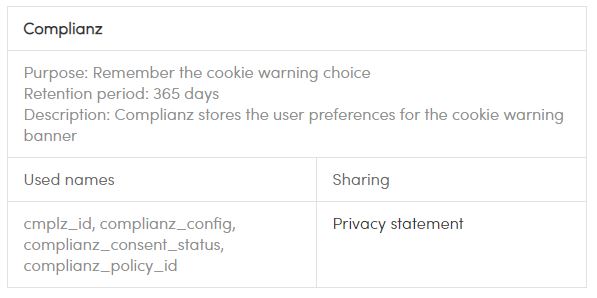 A new initiative: Cookiedatabase.org

Image: Reporting unknown cookies in the Complianz Wizard
After adding the feature of reporting unknown cookies we quickly realized the amount of cookies is almost endless. Besides a growing Cookiedatabase, we think the current legal obligatory descriptions and information won't make sense to most website visitors. There's also a big knowledge gap between the website developers/marketing and website users, regarding Digital Privacy.
We want to fill the gap with the following improvements:
Open-source database on cookiedatabase.org. Available for all!
Descriptions are for non-technical and non-legal users.
Understanding that combinations of cookies can lead to a personal profile for each user.
Logged-in users can add, translate and suggest improvements.
Non-Wordpress website can use an API for an up-to-date Cookiedatabase for better communication
You can search for usage, cookie name, organisation, websites etc.
But foremost it should be a community effort to inform website users of Digital Privacy.
Partnering with SIDN Fund.
We are proud to announce the partnership with the SIDN Fund to make way for a Open-Source system to make Digital Privacy a clear and informed subject for all. SIDN Fund is an independent foundation established by SIDN, the foundation for internet domain registration in the Netherlands. Sharing expertise in Digital Privacy is a purpose of both SIDN and Complianz and we are working hard to support and inform anyone on this matter together from this moment forward.
A Brief Statement
For the last few months, we have been working on cookiedatabase.org. An open-source database for anyone to use, edit or contribute while being moderated by privacy specialists.
This database is connected to our Complianz Wizard and will automatically sync unknown cookies to the database for further investigation. Known cookies, recently scanned cookies are synched with the database weekly to make sure you have the latest moderated information on your policy.
The synchronization and editing of your cookie policy have been improved as well. You can now desync your policy and edit your cookie policy or you can keep your cookie policy automated to reflect the latest changes.
Important!
We have stress-tested the database on multiple occasions to make sure it will handle all requests smoothly during this update. If your synchronization takes a while, please try again in a minute or so.
How it works
Cookiedatabase.org is a collection of moderated cookies descriptions and services as an open-source project, very much like WordPress is open-source. Dedicated volunteers working hard on the back-end to create a better user experience.
The Cookiedatabase will work in two ways:
1. Collected cookies from your website will be synched with the Cookiedatabase, to:
1.1. add new cookie information for your cookie policy in the available languages.
1.2 sync your cookies with the database if unknown cookies are detected.
1.3 check new cookies to sync newly available information on a weekly basis.
2. The database on Cookiedatabase.org will:
2.1 Edit and moderate unknown cookies to push new information back to our users
2.2 Will verify cookie information by the service responsible for setting the cookie
2.3 Build a better, more transparent and clear description how cookies and tracking works.
As a user of Complianz you can sync your cookies with Cookiedatabase.org from the wizard and keep your cookie policy automatically updated with the latest information. You can also desync your cookie policy so you can edit the policy to your wishes.
If you have any questions regarding the latest release. Please contact us through our support form or visit cookiedatabase.org